GTA: The Criminal Enterprises - The Loop
Play Sound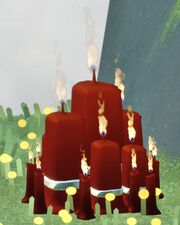 Treasure Candles (also called Bonus Candles and Candle Cakes) are sources of light players can collect. These appear in the shape of large red "cakes." There are two types of treasure candles: permanent and daily. Each Treasure Candle will give the player 50 pieces of light.
Permanent Treasure Candles exist in specific locations. They do not change locations.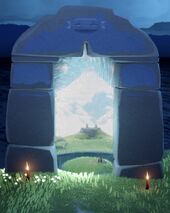 Daily Treasure Candles appear in a different Realm every day, rotating in order between Daylight Prairie, Hidden Forest, Valley of Triumph, Golden Wasteland, and Vault of Knowledge. The chosen Realm is indicated by two lit Red Candles outside the Realm's Archway Portal at Home (see picture) and contains four Daily Treasure Candles. The first Daily Treasure Candle always shows up in the Social Space of the chosen Realm while the other three appear in various other spots in the Realm.
Treasure Candle Locations
Each chosen Realm has two or three "rotations" of Daily Treasure Candles, similar to how the locations of Darkness Plants are subject to change each day. The Daily Treasure Candle in the Social Space will signal which rotation is being used for that day.
Isle of Dawn only contains Permanent Treasure Candles and never any Daily Treasure Candles, in contrast to Golden Wasteland, which does not contain any Permanent Treasure Candles but will sometimes be the chosen Realm for Daily Treasure Candles. The Eye of Eden (Spoiler Warning!) does not contain either Permanent Treasure Candles nor will contain Daily Treasure Candles.
There are 30 Permanent Treasure Candles and 4 Daily Treasure Candles that can be collected daily.
Isle of Dawn
Permanent (15)
Daylight Prairie
Rotation 1
Rotation 2
Rotation 3
Permanent (3)
Hidden Forest
Rotation 1
Rotation 2
Rotation 3
Permanent (2)
Valley of Triumph
Rotation 1
Rotation 2
Permanent (2)
Golden Wasteland
Rotation 1
Rotation 2
Rotation 3
Vault of Knowledge
Rotation 1
Rotation 2
Permanent (8)