GTA: The Criminal Enterprises - The Loop
Play Sound

This page welcomes anyone's help adding events, dates, verification, etc. Please maintain clear and consistent formatting across the entire timeline. The timeline may also contain details about events in the near future.
A running timeline of Sky game-related events.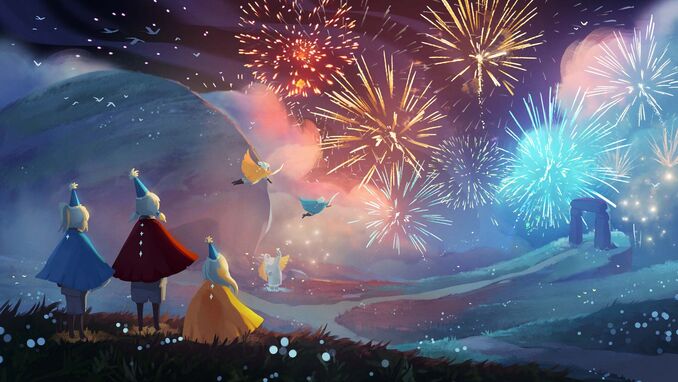 That Next Game (November 2016)
Thatgamecompany posted three posters regarding to their next game. (Candles, stone gate, and four children)
Sky Reveal (September 2017)
Jenova Chen talks about Sky at the Apple September Event keynote.
Sky Alpha/Beta testing begins (November 2017)
People who started testing in November 2017 were able to get the Journey costume in game (no longer available).
Most of the following milestones are shared with soft-launch:
Load testing of the servers begins in January 2018.
Eden was added March 2018.
Aviary was added May 5, 2018.
Prairie is extended to include Caves, Nest and Villages in September 2018. Citadel is added to Valley.
Winter season was introduced December 2018.
First Season of Gratitude was introduced April 2019, with a repeat (which included the Weasel mask) before global release.
The current home island replaced Aviary in April 2019.
Beta reset in June 2019.
iOS Soft Launch of Sky: Light Awaits (December 2017)
First country is Philippines, later to include Singapore, New Zealand, Sweden, Norway.
China's release came in June 2019, before the global release.
✦ iOS Global Release of Sky: Children of the Light (July 18, 2019)
(Sep 02) Season of Gratitude ends.
(Sep) Secret Area: Office is added to the game.
(Oct 27) Halloween Office Event - Spooky Bat Cape & Hungry Pumpkin Hat available.
(Nov 10) Season of Lightseekers ends.
(Nov 22) Android 9+ Limited Live Launch for Singapore.
(Nov 26 - Dec 03) Days of Giving 2019, Double Heart event.
(Dec 13) Android 9+ Limited Live Launch for Japan.
(Dec 22 - Jan 02) Days of Feast 2019, Double Seasonal Light event & Christmas themed office.
(Jan 12) Season of Belonging ends.
(Jan 24 - Jan 27) Lunar New Year, Double Heart event
(Jan 31 - Feb 03) First ever Traveling Spirit arrives - Gratitude 'Sassy Drifter' Isle Spirit
(Feb 12 - Feb 19) Days of Love 2020 - Days of Love Swing available
(Feb 14 - Feb 17) Traveling Spirit - Lightseekers 'Doublefive Light Catcher' Prairie Spirit
(Feb 27 - Mar 02) Traveling Spirit - Lightseekers 'Laidback Pioneer' Forest Spirit
(Mar 12 - Mar 15) Traveling Spirit - Gratitude 'Provoking Performer' Forest Spirit
(Mar 19 - Mar 22) 10 Million Downloads Celebration, Double Seasonal Light Event
(Mar 26 - Mar 29) Traveling Spirit - Belonging 'Pleaful Parent' Wasteland Spirit
(Mar 30 - Apr 13) Days of Spring event - Double Regular Candles
(Apr 05) Season of Rhythm ends
✦ Android Global Release of Sky: Children of the Light (April 7, 2020)
(Apr 09 - Apr 12) Traveling Spirit - Lightseekers 'Crab Whisperer' Wasteland Spirit.
(Apr 16 - Apr 19) Traveling Spirit - Lightseekers 'Piggyback Lightseeker' Isle Spirit.
(Apr 20 - Apr 27) Days of Nature 2020 - Earth Day Cape available
(Apr 30 - May 03) Traveling Spirit - Gratitude 'Stretching Guru' Prairie Spirit
(May 14 - May 17) Traveling Spirit - Belonging 'Sparkler Parent' Valley Spirit
(May 18 - May 26) Days of Healing event - Double Hearts, Healing Pack available until Jun 22
(May 28 - May 31) Traveling Spirit - Gratitude 'Sassy Drifter' Isle Spirit (2nd visit)
(Jun 10 - Jun 14) Days of Rainbow event
(Jun 11 - Jun 14) Traveling Spirit - Belonging 'Hairtousle Teen' Forest Spirit
(Jun 15 - Jun 21) Double Seasonal Light event
(Jun 21) Season of Enchantment ends
(Jun 22 - Jul 19) Double Treasure Candles
(Jun 25 - Jun 28) Traveling Spirit - Gratitude 'Leaping Dancer' Valley Spirit
(Jul 08) 20 Million Downloads
(Jul 09 - Jul 12) Traveling Spirit - Belonging 'Confetti Cousin' Prairie Spirit
(Jul 13 - Jul 19) Double Seasonal Light event
(Jul 13 - Jul 19) First Anniversary events
(Jul 17) thatskyshop.com launches.
(Jul 18) Sky's 1 Year Anniversary
(Jul 23 - Jul 26) Traveling Spirit - Gratitude 'Greeting Shaman' Vault Spirit
(Jul 31) 35 Million Downloads
(Jul 31) Sky Original Game Soundtrack (Volume 1) is released.
(Aug 06 - Aug 09) Traveling Spirit - Belonging 'Wise Grandparent' Vault Spirit
(Aug 17 - Aug 23) Double Treasure Candles
(Aug 20 - Aug 23) Traveling Spirit - Lightseekers 'Shushing Light Scholar' Vault Spirit
(Sep 03 - Sep 06) Traveling Spirit - Rhythm 'Festival Spin Dancer' Prairie Spirit
(Sep 08 - Sep 20) Days of Summer Lights & Double Seasonal Light
(Sep 17 - Sep 20) Traveling Spirit - Lightseekers 'Twirling Champion' Valley Spirit
(Sep 20) Season of Sanctuary ends
(Oct 01 - Oct 04) Traveling Spirit - Gratitude 'Provoking Performer' Forest Spirit (2nd visit)
(Oct 06) 50 Million Downloads
(Oct 15 - Oct 18) Traveling Spirit - Rhythm 'Admiring Actor' Forest Spirit
(Oct 22 - Nov 04) Days of Mischief event
(Oct 29 - Nov 01) Traveling Spirit - Enchantment 'Indifferent Alchemist' Wasteland Spirit
(Nov 12 - Nov 15) Traveling Spirit - Belonging 'Boogie Kid' Isle Spirit
(Nov 23 - Nov 30) Days of Giving 2020 - Double Hearts
(Nov 26 - Nov 29) Traveling Spirit - Lightseekers 'Laidback Pioneer' Forest Spirit (2nd visit)
(Dec 10 - Dec 13) Traveling Spirit - Belonging 'Pleaful Parent' Wasteland Spirit (2nd visit)
(Dec 13) Season of Prophecy ends
(Dec 21 - Jan 03) Days of Feast 2020
(Dec 24 - Dec 27) Traveling Spirit - Rhythm 'Troupe Greeter' Isle Spirit
(Jan 07 - Jan 10) Traveling Spirit - Enchantment 'Nodding Muralist' Wasteland Spirit
(Jan 21 - Jan 24) Traveling Spirit - Belonging 'Confetti Cousin' Prairie Spirit (2nd visit)
(Feb 03 - Feb 06) Traveling Spirit - Rhythm 'Respectful Pianist' Wasteland Spirit
(Feb 07 - Mar 01) Days of Fortune 2021
(Feb 12 - Feb 21) Days of Love 2021
(Feb 18 - Feb 21) Traveling Spirit - Enchantment 'Crab Walker' Wasteland Spirit
(Mar 04 - Mar 07) Traveling Spirit - Lightseekers 'Piggyback Lightseeker' Isle Spirit (2nd visit)
(Mar 15) Season of Dreams ends
(Mar 18 - Mar 21) Traveling Spirit - Gratitude 'Leaping Dancer' Valley Spirit (2nd visit)
(Mar 22 - Apr 04) Days of Bloom
(Apr 01 - Apr 04) Traveling Spirit - Belonging 'Sparkler Parent' Valley Spirit (2nd visit)
(Apr 15 - Apr 18) Traveling Spirit - Lightseekers 'Doublefive Light Catcher' Prairie Spirit (2nd visit)
(Apr 19 - May 02) Days of Nature 2021
(Apr 29 - May 02) Traveling Spirit - Sanctuary 'Rallying Thrillseeker' Prairie Spirit
(May 13 - May 16) Traveling Spirit - Rhythm 'Thoughtful Director' Vault Spirit
(May 27 - May 30) Traveling Spirit - Enchantment 'Snoozing Carpenter' Wasteland Spirit
(Jun 10 - Jun 13) Traveling Spirit - Sanctuary 'Timid Bookworm' Prairie Spirit
(Jun 13) Season of Assembly ends
(Jun 14 - Jun 27) Days of Rainbow 2021
(Jun 24 - Jun 27) Traveling Spirit - Rhythm 'Admiring Actor' Forest Spirit (2nd visit)
✦ Nintendo Switch Release of Sky: Children of the Light (June 29, 2021)
(Jun) 100 Million Downloads
(Jul 08 - Jul 11) Traveling Spirit - Gratitude 'Sassy Drifter' Isle Spirit (3rd visit)
(Jul 12 - Jul 25) Second Anniversary events
(Jul 13) Sky 2nd Anniversary Q&A Livestream
(Jul 16) Sky Original Game Soundtrack (Volume 2) is released
(Jul 18) Sky's 2 Year Anniversary
(Jul 22 - Jul 25) Traveling Spirit - Belonging 'Boogie Kid' Isle Spirit (2nd visit)
(Jul 30) Sky Original Game Soundtrack (Volume 3) is released
(Aug 02 - Aug 08) Double Seasonal Light
(Aug 05 - Aug 08) Traveling Spirit - Prophecy 'Prophet of Water' Isle Spirit
(Aug 12 - Aug 25) Days of Summer 2021
(Aug 19 - Aug 22) Traveling Spirit - Sanctuary 'Chill Sunbather' Prairie Spirit
(Sep 02 - Sep 05) Traveling Spirit - Lightseekers 'Crab Call' Wasteland Spirit (2nd visit)
(Sep 16 - Sep 19) Traveling Spirit - Rhythm 'Troupe Juggler' Valley Spirit
(Sep 19) Season of The Little Prince ends
(Sep 20 - Oct 03) Days of Summer Lights
(Sep 30 - Oct 03) Traveling Spirit - Sanctuary 'Grateful Shell Collector' Prairie Spirit
(Oct 14 - Oct 17) Traveling Spirit - Rhythm 'Festival Spin Dancer' Prairie Spirit (2nd visit)
(Oct 18 - Nov 7) Days of Mischief 2021
(Oct 28 - Oct 31) Traveling Spirit - Enchantment 'Playfighting Herbalist' Wasteland Spirit
(Nov 11 - Nov 14) Traveling Spirit - Belonging 'Wise Grandparent' Vault Spirit (2nd visit)
(Nov 23 - Nov 29) Days of Giving 2021
(Nov 25 - Nov 28) Traveling Spirit - Sanctuary 'Jelly Whisperer' Prairie Spirit
(Dec 09 - Dec 12) Traveling Spirit - Prophecy 'Prophet of Fire' Isle Spirit
(Dec 19) Season of Flight ends
(Dec 20 - Jan 9) Days of Feast 2021
(Dec 23 - Dec 26) Traveling Spirit - Belonging 'Sparkler Parent' Valley Spirit (3rd visit)
(Jan 6 - Jan 9) Traveling Spirit - Lightseekers 'Twirling Champion' Valley Spirit (2nd visit)
(Jan 20 - 23) Traveling Spirit - Gratitude 'Saluting Protector' Wasteland Spirit
(Jan 24 - Feb 06) Days of Fortune 2022
(Feb 03 - Feb 06) Traveling Spirit - Prophecy 'Prophet of Earth' Isle Spirit
(Feb 07 - Feb 20) Days of Love 2022
(Feb 17 - Feb 20) Traveling Spirit - Sanctuary 'Hiking Grouch' Prairie Spirit
(Feb 25 - Mar 10) Double Seasonal Light and Treasure Candles
(Mar 03 - Mar 06) Traveling Spirit - Rhythm 'Troupe Greeter' Isle Spirit (2nd visit)
(Mar 17 - Mar 20) Traveling Spirit - Gratitude 'Stretching Guru' Prairie Spirit (2nd visit)
(Mar 27) Season of Abyss ends
(Mar 28 - Apr 10) Days of Bloom 2022
(Mar 31 - Apr 3) Traveling Spirit - Enchantment 'Scarecrow Farmer' Wasteland Spirit
(Apr 14 - Apr 17) Traveling Spirit - Dreams 'Spinning Mentor' Valley Spirit
(Apr 28 - May 1) Traveling Spirit - Assembly 'Daydream Forester' Forest Spirit
(May 12 - May 15) Traveling Spirit - Prophecy 'Prophet of Air' Isle Spirit
(May 26 - May 29) Traveling Spirit - Gratitude 'Greeting Shaman' Vault Spirit (2nd visit)
(Jun 9 - Jun 12) Traveling Spirit - Belonging 'Hairtousle Teen' Forest Spirit (3rd visit)
(Jun 20 - Jun 26) Double Seasonal Light and Treasure Candles
(Jun 23 - Jun 26) Traveling Spirit - Dreams 'Peeking Postman' Valley Spirit
(Jun 26) Season of Performance ends
(Jun 30 - Jul 13) Days of Rainbow 2022
(Jul 7 - Jul 10) Traveling Spirit - Sanctuary 'Timid Bookworm' Prairie Spirit
Season of Shattering Begins (July 11, 2022)
(Jul 18 - Jul 31) Days of Sky 2022
(Jul 21 - Jul 24) Traveling Spirit - Lightseekers 'Doublefive Light Catcher' Prairie Spirit
(Aug 4 - Aug 7) Traveling Spirit - Rhythm 'Thoughtful Director' Vault Spirit
(Aug 9 - Aug 21) Double Seasonal Light
(Aug 18 - Aug 21) Traveling Spirit - TBA
(Sep 1 - Sep 4) Traveling Spirit - TBA
(Sep 15 - Sep 18) Traveling Spirit - TBA
(Sep 25) Season of Shattering ends
(Sep 29 - Oct 2) Traveling Spirit - TBA