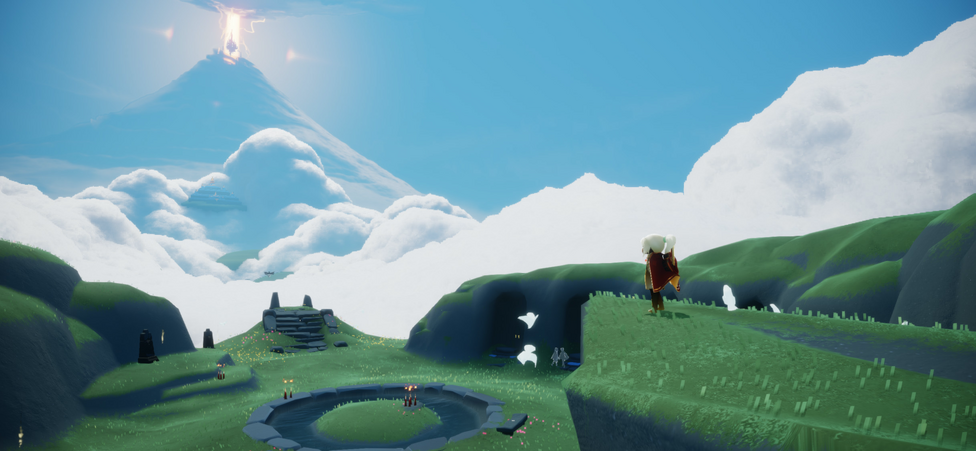 Welcome to the Sky: Children of the Light Wiki!
Sky: Children of the Light is the newest game from thatgamecompany, the creators of Flow, Flower, and Journey on the PS3 and PS4. The game is available now in the iOS App Store, and available on Android in select regions.
What this Wiki offers
If you're here, you probably want some questions answered regarding how to play the game. If you want general help with menus, what all those icons mean, where to find in-game help, how to interact with others, and what all those onscreen "....." captions mean, then the Basics area is for you. Start with Getting Started.
Spoilers will be a part of any written information about a game, however, while there are some spoilers on the Collectibles, Cosmetics, and Expressions pages, if you are really wondering where an item is and how to get them--but don't want to know too much more than that--you can visit these pages without being completely spoiled as you would be on the Realms pages.
If you are looking for more detailed information on where things are found and what is currently available to collect, please visit the Walkthroughs area. The Realms pages will provide you with a deeper look into the gameplay, and there is a guide and walkthrough for collecting Winged Light.
If you wish to figure out the scales and sounds of each of the instruments that are available in the game, visit the Sky Music Guide for information on the keys of each level and of each instrument.
If you are looking for information regarding Seasonal Events then please visit Seasonal Events & Adventure Pass for more details.
The current Seasonal Event is the Season of Rhythm which began in January 2020 and is scheduled to end on Sunday April 5th at 23:59 PDT.
This Wiki currently covers the iOS version of the game. As additional platforms are added, it will be up to the Sky community to point out or add pages for things that are specific to those other platforms.
Want to join in with editing on the Sky Wiki? Check out the Wiki Guidelines for Editing!
Got any questions? Maybe the Frequently Asked Questions (FAQ) or Glossary of Terms can help.
 Connecting with others outside of Sky
While several fan-created forums and gathering places have popped up as the game community grows, below are the thatgamecompany official fan communities:
Facebook
Twitter
Discord
Websites
Twitch
YouTube
Basics
Hints and Tips
Collectibles
Walkthroughs
Community content is available under
CC-BY-SA
unless otherwise noted.