GTA: The Criminal Enterprises - The Loop
Play Sound
Seasonal Events are limited-time themed events that come with the option of purchasing an Season Pass, which allows players to access extra Cosmetics and Expressions during the Season in exchange for an in-game purchase.
Seasonal Events
Seasonal Events are a continuous feature in Sky! Each Season lasts around nine to eleven weeks. During this time, a limited number of Expressions, Cosmetics, Props, Instruments, Calls, and Stances are accessible from Seasonal Spirits.
During each Season, a new Constellation appears on the Constellation Table at Home; it is located between Hidden Forest and Valley of Triumph. This is offering six or four new Spirit Shops. Sometimes the Seasonal Spirits have become available all at once, and other times a new one has appeared each week. Each of these Seasonal Spirits has Cosmetics and other items that can be unlocked with the Season Candle Currency earned during the Season. If players do not purchase the Season Pass, only about half of these will be purchasable. However, previous Seasonal Spirits return as Traveling Spirits – offering past Cosmetics and Expressions for non-Seasonal Currencies.
Seasons, and the Seasonal Spirits themselves, always follow a set theme and aesthetic. For instance, the Season of Belonging brought with it a family of Seasonal Spirits that the player had to collect and reunite.
Starting from Season of Enchantment, the seasonal spirits can be found in the new sub-realms instead of six main realms.
''Note: Seasons have a minimum game completion requirement before the players is able to enter the new location. Please refer to the Seasonal page if you are unable to access the enter point.''
The Season Guide during the active Season gives out Season Candles (see below) as a reward for completing Daily Quests. This Spirit will also wear and sell the Ultimate Gifts of the Season, purchasable for Seasonal Hearts.
With the July 2021 update to Sky: Children of the Light, all Seasonal Spirits from past and current seasons are now visible in every Realm of the Sky Kingdom. Once a player has finished the final level (Eden) of the game at least once, it will now be possible to find and collect the base-level expression from all Seasonal Spirits. However, in order to collect the Cosmetic items or upgrade the Expressions, the player will have to wait for those Spirits to return as Traveling Spirits.
Overview of Seasonal Events
Emblem
Title
Begin date
End date
Remarks
Seasonal Events in 2022
Season of Shattering
July 2022
Ongoing (Expected September 2022)
First season since Rhythm to not showcase a new area, and also the first season to not have any seasonal spirits. This season takes place in all Realms except Isle of Dawn.
Season of Performance
April 2022
June 2022
Takes place in Village Theater, a new addition to the Village of Dreams.
Season of Abyss
January 2022
March 2022
First season to introduce diving mechanics.
Seasonal Events in 2021
Season of Flight
October 2021
December 2021
Takes place in The Wind Paths, which connects previous seasonal areas from each realm.
Season of The Little Prince
July 2021
September 2021
First season in collaboration with the titular story, The Little Prince, by Antoine de Saint-Exupery.
Season of Assembly
April 2021
June 2021
First season to reintroduce six spirits, instead of four, similar to the two previous seasons.
Season of Dreams
January 2021
March 2021
First season that contains two seasonal areas instead of one; Village of Dreams and Hermit Valley.
Seasonal Events in 2020
Season of Prophecy
October 2020
December 2020
First season to feature four spirits, instead of the usual six.
Season of Sanctuary
July 2020
September 2020
First season to feature fixed Treasure Candles in its seasonal area, Sanctuary Islands. Season with the most number of Winged Lights introduced in its seasonal area.
Season of Enchantment
April 2020
June 2020
First season to be hosted in a singular area, Forgotten Ark at Golden Wasteland. First season to have a quest storyline and a season guide who remained present in game to act as quest giver.
Season of Rhythm
January 2020
March 2020
This season reintroduced spirts first seen in the Winter 2018 season of the pre-release Sky: Light Awaits.
Seasonal Events in 2019
Season of Belonging
November 2019
December 2019
First season to introduce Seasonal Hearts. Players can redeem ultimate gift from the season quest with specific amount of seasonal hearts.
Season of Lightseekers
September 2019
October 2019
The only season with blue seasonal candles instead of the usual orange.
Season of Gratitude
July 2019
August 2019
First season in the global release of Sky: Children of the Light. A test version of this season was first available in the pre-release Sky: Light Awaits in Spring 2019
Season Currencies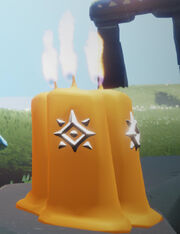 Season Candles
Season Candles are the currency during a Seasonal Event. They are similar to the regular white Candles, except they are golden and feature the emblem of the current season. Each Seasonal Event's candles used to have their own unique color relating to the season, but this is no longer the case.
Season Candles are rewarded by the Season Guide at Home. Every day during the Season, a new set of Quests is available to complete, and the player receives one Season Candle per quest completed. Season Candles are also sprinkled in one area of the main Realm of the day (whichever Realm the Guide is standing outside) and players can earn an extra Season Candle from collecting the wax from all four of these dotted about the Realm. Sometimes there is a Double Candle event where twice the amount of Season Candles can be found, meaning players instead have the opportunity to get two extra Season Candles.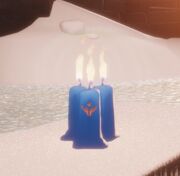 Season Candle Quests
Completing the Seasonal Quests is the quickest way to accumulate Season Candles, whether you purchase the Season Pass or not. Since Spring 2019's "Season of Gratitude," the quests now focus on one area of the game per day. There are four tasks to complete each day, which can all be done in the daily Realm. However, some can be achieved in other areas. Read more on the Quests page.
You can tap the top left corner of your screen to see what quests you have completed and to complete at any given time.
Season Hearts
Introduced with the Season of Belonging, Season Hearts are a currency used during Seasonal Events.
They are used to exchange for Seasonal Ultimate Gifts from the Season Guide Spirit. This is the only purpose/use of Season Hearts. During a Season, these can be obtained in the Seasonal Constellation from each Seasonal Spirit's tree. A Season Heart will be located at the top of each tree (meaning a player will have to purchase everything from that Spirit to reach the heart), it will cost 3 Season Candles, and can only be unlocked for those with the Season Pass. When a Seasonal Event concludes, any unused Season Hearts convert to regular Hearts (1:1).
Season Pass
The Season Pass was originally called the Adventure Pass but was renamed after Patch 0.18.0.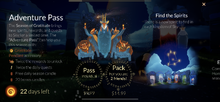 The rewards from the Seasonal Spirits are divided into two tiers, a free tier and the Season Pass tier. If the player has purchased the Season Pass, the player will be able to unlock an extra reward for free with each item purchased in the Seasonal Spirits' Shops. Players can also purchase a Gift Pack that includes one Season Pass for the player, and two extra Passes to gift to friends (previously called the Gratitude Pack). The standalone Season pass is available for $9.99 USD, the bundle $19.99 USD. When gifting a pass, the recipient will also receive the 30 Season Candles a normal pass provides. It is also possible to gift further individual passes, in addition to the bundle, for the price of $9.99 USD.
Please note: an Season Pass is good for only one season - the Seasonal Event that it was bought for. The Season Pass will need to be purchased new for each season, if desired. However, leftover gift-passes will not expire if left unused.
Two people can exchange leftover passes without owning an Season Pass on the next seasons. Unused Gifts passes do not expire.
The Season Pass can be purchased in the same store that you buy Candles from, and as of February 2020 provides the following benefits:
Seasonal pendant Cosmetic available for players to wear and keep after the Seasonal Event
One additional daily Season Candle (available at Home)
30 Seasonal Candles
One free item for every purchased one
Players that did not purchase the Season Pass cannot unlock nodes that have the seasonal icon mark next to them in the Spirit cosmetics tree (usually locked cosmetics are on the left side of the Spirit cosmetics tree) . Players may upgrade their accounts to unlock the Season Pass and its bonus rewards at any time during the Seasonal Event.
Retired
Season Pass Preorders
In the days leading up to the Season of Enchantment in April 2020, players were given the chance to preorder Season Passes for the upcoming season. However this option has been retired in patch 0.15.5. Starting from Season of Abyss (2022), Season Pass Preorders are no longer available. All Season Passes will now include 30 Seasonal Candles and this includes Passes a player receives as a gift as well.
The preorder option was available for approximately one week before the Season of Sanctuary began, it was delayed by a bug that caused the Season of Enchantment pendant to become unlocked as an accessory instead of the Pendant of Sanctuary. Preorders were available for both the individual pass as well as for the bundle. Preorders contained an additional ten Seasonal Candles on top of the 20 that they would normally had, for a total of 30 Seasonal Candles. Only the purchaser got the ten extra Candles.
Seasonal Gift Packs
Previously, Seasonal Gift Packs were also available from the Store. These allowed players to access currently unavailable Seasonal Cosmetics though an in-app purchase. However, as of the Season of Enchantment, and the continued existence of Traveling Spirits, Seasonal Gift Packs are no longer available.
Until January 2020 the Gift Pack on offer was the Winter Musician Pack, which included Cosmetics and Music Sheets from the Winter 2018 Seasonal Event - exclusive to the beta version of the game. As of the Season of Rhythm, which was an expanded version of the Winter 2018 Season, this Gift Pack was retired and replaced with a new pack called Gratitude Fur Cape Pack. As with the Winter Musician Pack, this Pack included Cosmetics and Music Sheets from a previous Season – the Season of Gratitude. This Pack has since also been retired.
The Rock
Beginning at the end of Season of Sanctuary, the developers at TGC started making fun in making a story based on a rock living in the Realms of Sky. While no one was able to find that rock, each patch note beginning a new Season features the rock venturing new horizon.
October 2nd, 2020: A rock from Isle of Dawn has gone on vacation to Sanctuary Islands and decided to move there permanently in order to fulfill its lifelong dream of observing jellyfish in their natural habitat
December 15th, 2020: The rock made a quick visit to their original land, and found a cave filled with ancient memories. They decided to climb to the top for a better view, and saw a heart that had been left for friends to find. Happy to see such kindness, the rock departed for it's home. After returning to Sanctuary, they shared these stories around the campfire and gazed at the stars, wondering...
March 16th, 2021: While taking a break from jellyfish-watching, the rock decided to stop by a small village in the Valley of Triumph. They've been inspired by all the Skykids they've seen, and hope that they can teach their jelly friends how to ice skate, too!
June 29th, 2021: After the crisp air and excitement of the ice skating rink, the rock decided to explore the nearby forest. While wandering amidst the tall trees, they stumbled upon the remains of what appeared to be an old treehouse! Sky kids were running around everywhere, honking at each other and creating fun item arrangements to bring joy back to the long-neglected space. The rock found a comfy hammock and decided that maybe it was time to take a short nap...
September 28th, 2021: While napping in the hammock, the rock had a fanciful dream: They explored under the night sky with a brave child and a fox friend, talked to the stars, and played in a garden maze. Waking up and feeling full of inspiration, it was time to set off on a new adventure! But this time, the rock thought they might take more time to stop and appreciate the sunsets along the way.
January 13th, 2022: In their travels, the rock discovered a brand new vista of floating islands. It seemed like this area was a haven for Light creatures, and the rock was happy to watch them dance through the sky. Whoever lived here must have loved the creatures a lot; they even crafted chimes so the wind could sing with the birds and mantas as they passed through.
April 5th, 2022: The rock saw a bunch of kids diving into the water. But rocks can't swim (and might be a little scared of monsters), so instead the wandering stone decided to follow their friend Patch-chan on an adventure! There were so many people, wearing capes and masks and other costumes! They brought beautiful artwork, left kind messages, and took lots of pictures. The rock watched it all from Patch-chan's cute new bag, peeking out at all of the amazing sights and sounds.
June 28th, 2022: The rock heard of a new theater and decided to visit. Before long, they were helping put on plays with the local Sky children and watching stories unfold on the stage. So many things were possible. Perhaps the rock could even help organize a jellyfish opera one day? The jellies have such lovely voices!
External links