Sky 星を紡ぐ子どもたち Wikiへようこそ!
Written in the
Stars
このWikiは誠意製作中です。
Sky 星を紡ぐ子どもたち is the newest game from thatgamecompany, the creators of Flow, Flower, and Journey on the PS3 and PS4. The game is available now for iPhone and iPad on the Apple App Store, Android on the Google Play Store, and Nintendo Switch.


Welcome to Sky: Children of the Light Wiki
A Wiki dedicated to the pleasant puzzle-adventure game, developed and published by thatgamecompany, that anyone can edit. As we strive to be the best source, for all things, Sky, we warmly welcome you to help us expand this database, however please read the Wiki Guidelines for Editing before you become an editor.

Your Adventure Begins
Welcome to the enchanting world of Sky, a beautifully-animated kingdom waiting to be explored by you and other players. Hand in hand, take flight across seven realms, explore the depths on open-world free play, solve mysteries, help others, make friends, and create enriching memories together. Spread Light, through the desolate kingdom and return the fallen Stars to their constellations.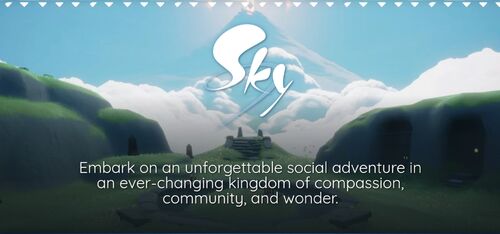 Warning: this wiki contains spoilers. Look for spoiler tags while browsing!
Basics
Events
Walkthroughs

Getting Started
Sky for Android
Making Friends
Currency
Menus and Controls


Seasonal Events & Adventure Pass
Holidays and Special Events
Double Currency Events
Traveling Spirits


Realms
Sky Video Guides
World Maps
The Out of Bounds (OOB)


Collectibles
Hints & Tips
FAQ

Expressions
Cosmetics
Wing Buffs
Winged Light (Children of Light)
Season Expressions & Cosmetics
Event-Exclusive Cosmetics
Traveling Spirits

Spirits and Elders (Completing Constellations)
Creatures
Sky Music Guide
Message Candle Spots
Blessings and Spells
Treasure Candles
Quests

Frequently Asked Questions (FAQ)
Glossary of Terms
Known Issues
Version History
Timeline
Site Index
Wiki Guidelines for Editing